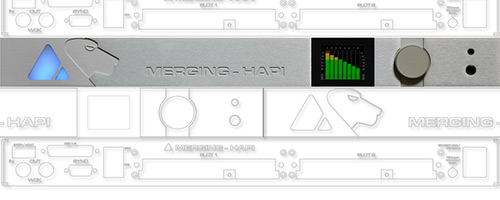 New from Merging: HAPI and Pyramix 9
15-07-2014
Horus is proud to present you his son, Hapi.
Hapi is the logical development from Horus. It incorporates all the major components from Horus but in a smaller package with a lower price point.
By using the same components it gave us two key advantages. The first was an accelerated development cycle and the second was no discussion on performance and sound quality because it has all the connectivity options and uses the same AD8D/DP and DA8/P modules from Horus.
All units come with
- 8 channels of AES/EBU I/O
- 8 channels of ADAT or 2 channels of SPDIF I/O
- Stereo Headphone Outputs
- RAVENNA - AES67 Connectivity
- Wordclock I/O
- Timecode & Sync (LTC/Video Ref)
Don't worry....Be HAPI!
Now shipping!
Merging announces PYRAMIX 9
The move to 64bit operating system unleashes the full power of MassCore.
New Features in Pyramix 9:
64bit MassCore Engine
With 64bit, Pyramix's true real-time operation is now able to span not only hundreds of tracks, but also projects that can contain more edits, more automation, more plug-ins and span greater lengths than ever before.
- 64bit OS operation
- Hyperthreading support
- Ultra Low Latency mode (1.33ms)
- Requires installation in a 64bit Operating System (Windows7 64bit)
New Mixer
with Signal Flow view of the metering
Mixdown
: Loudness Logging and Fix Tools
mixdown multiple busses at once and create a separate interleaved file for each one
EUCON 3 Support
New VS3 and VST plug-ins for 64bit
Virtual Transport 2
ISRC Code in BWF Support
https://www.merging.com
Contact
harald.vanherf@amptec.be
for more info and pricing.
---