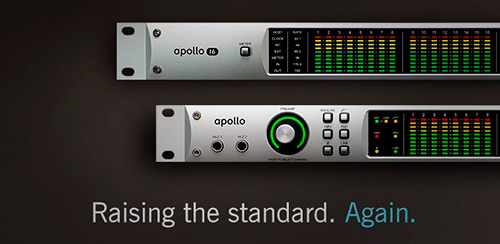 Apollo Thunderbolt Promotion
02-01-2014
There couldn't be a better time to see what Apollo audio interfaces - with their superior sound quality and Realtime UAD Processing - can do for your studio.
Now through March 31st, 2014, register an Apollo DUO, Apollo QUAD, or Apollo 16 audio interface, purchased from an authorized UA retailer, and you'll receive
a FREE Thunderbolt Option Card
.*
Compatible with the latest generation of iMacs, MacBook Pros, MacBook Airs, and Mac minis, the Thunderbolt Option Card offers unrivaled bandwidth and next-generation connectivity for Apollo. The Thunderbolt Option Card provides greater UAD plug-in instances, improved performance at higher sample rates, and reduced UAD plug-in latency versus FireWire.
Offer ends March 31st, 2014.
*Free Thunderbolt Option Card offer valid only on new Apollo DUO, Apollo QUAD, and Apollo 16 models purchased from an authorized UA dealer and registered between January 1, 2014 and March 31st, 2014. UA reserves the right to refuse promotional merchandise fulfillment to customers not eligible for this offer, at the sole discretion of Universal Audio Inc.
https://www.uaudio.com
Contact
leon.hoeks@amptec.nl
,
niels.neven@amptec.be
for more info and pricing.
---