News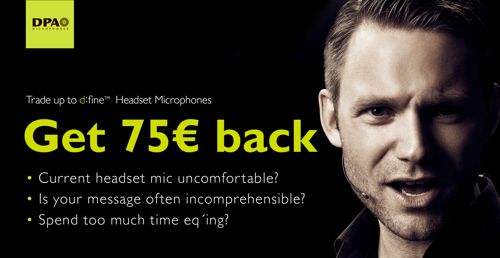 Getting closer to invisible sound
10-04-2015
75€ for every trade up to ultimate sound and comfort
Are you tired of your current headset mic's sound, cumbersome comfort, complicated cabling and every-night equalizing?  Don't tolerate it. Trade up!
There's no limit in the number of non-DPA headsets you can trade-up to a brand-new DPA.
Participating microphones are the golden-oldies 4066 and 4088, the 1-ear and 2-ear d:fine microphones and the brand-new d:fine in-ear broadcast headsets.
We accept headsets from any brand but DPA, either working or not.
Valid till April 30th 2015.
Follow this link for all terms and conditions:
dpamicrophones.com/tradeuptodfine
.
d:fine™ In-Ear Broadcast Headset Microphone
The latest addition to our d:fine™ range of Headset Microphones, adds in-ear communication to our industry-leading capsules and remarkably comfortable design.
- Mic and in-ear monitor integrated in one unique solution
- Easy to mount with minimum cable clutter
- Minimalistic form factor
- Legendary microphone capsule technology and sound quality
- Available in dual- and single-ear headband, with dual or single in-ear pieces
All come equipped with our versatile MicroDot connector for the mic and a mini-jack for the in-ear driver. 
Click here for the current DPA pricelist.
The different d:fine™ Headset Microphones explained
Wherever and however you need to reproduce the full spectrum of the human voice, the d:fine™ range has you covered. Omnidirectional or directional capsules. Single or double ear hooks. With or without in-ear monitors.
DPA offers 4 different capsules, 2 omnidirectional, 2 directional / cardioid.
d:fine 66 omni:
Round head with removable grill for cleaning. Option of soft-boost and high-boost grids.
d:fine omni:
Discreet flat-head design, optional make-up & moisture filter
d:fine cardio:
Discreet flat-head design, subtle proximity-effect, very detailed sound, ideal for speech
d:fine 88 cardio:
More proximity-effect, full warm sound, ideal for singing
Microphone comparison - d:fine™ Headset mic - voice isolation
DPA d:fine Headset Mic - tips & tricks
https://www.dpamicrophones.com
Contact
dany.meeuwissen@amptec.be
,
rembrandt.hissink@amptec.nl
for more info and pricing.