News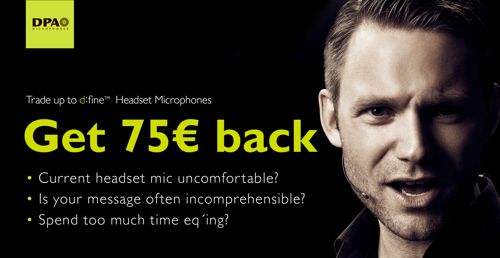 Trade up to d:fine Headset promotion
17-03-2015
From March 17th to April 30th 2015, DPA gives a 75€ cashback on the purchase of every new DPA headset if you trade in a non-DPA headset.
There's no limit in the number of headsets you can trade-up.
Participating microphones are the golden-oldies 4066 and 4088, the 1-ear and 2-ear d:fine microphones and the brand-new d:fine in-ear broadcast headsets.
All the nuances of the spoken word. Thrilling musicality. No other headset mic comes close to d:fine™ Headset Microphones in capturing the human voice.
Prepare to be heard.
www.dpamicrophones.com/tradeuptodfine
Follow link above for all terms and conditions.
https://www.dpamicrophones.com
Contact
dany.meeuwissen@amptec.be
,
rembrandt.hissink@amptec.nl
for more info and pricing.